How Storm Shield Alerts Work
The Accuracy of Storm-Based Alerts
Storm Shield app's storm-based polygon warnings are extremely accurate.
Note how the forecasted polygon for the Severe Thunderstorm Warning quickly gets filled with the most intense (red) storm cells. This is from a series of three Storm Shield app screenshots during a Severe Thunderstorm Warning on April 16, 2013 in southwest Ohio.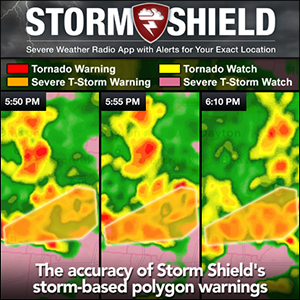 Storm-Based vs. County-Based Alerts
Storm Shield alerts you to severe weather based on your exact location within a county. Other services use county-based alerts which result in people at one end of a county receiving alerts for weather that will not impact them.
In this example, if the National Weather Service issues a polygon for a Tornado Warning, you would receive a Tornado Warning from Storm Shield if you or your saved locations fall inside the red polygon.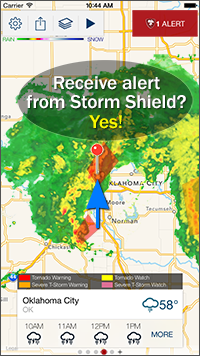 In this example, if your location is just outside the polygon (even though you may be in the storm and the county), you would not receive a warning from Storm Shield.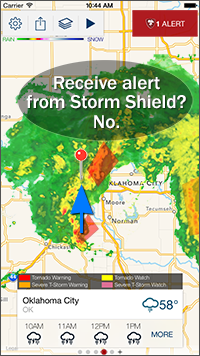 What constitutes a severe thunderstorm?
The National Weather Service has criteria that must be met to issue a severe weather alert. As an example, for a thunderstorm to be considered severe, it must contain hail of 1 inch or greater and winds of 58 miles per hour or greater.
These are thresholds the NWS defines when storms start causing structural damage and are a substantial threat to people. So it's possible to experience small hail and strong winds and not be under a thunderstorm warning.
What does this mean for Storm Shield users?
If your current or saved locations fall outside these thresholds -- even though you may be in what appears to be severe weather -- you would not receive an alert from Storm Shield, because Storm Shield adheres to the same NWS standards.
More tips and help
For more help with Storm Shield App, visit our FAQ section at support.stormshieldapp.com