How Storm Shield Alerts Work
The Accuracy of Storm-Based Alerts
Storm Shield app's storm-based polygon warnings are extremely accurate.
Note how the forecasted polygon for the Severe Thunderstorm Warning quickly gets filled with the most intense (red) storm cells. This is from a series of three Storm Shield app screenshots during a Severe Thunderstorm Warning on April 16, 2013 in southwest Ohio.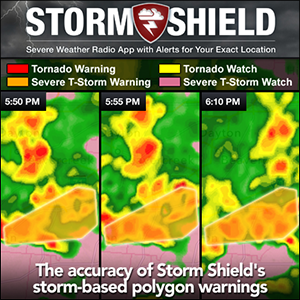 Storm-Based vs. County-Based Alerts
Storm-based alerts help reduce false alarms by alerting you to severe weather based on your exact location within a county.
Most other apps and sources still use county-based alerts (meaning you'd get an alert even if your location in the county is not within the threatened area).
In the example below, if the National Weather Service issues a polygon for a Severe Thunderstorm Warning, you would receive a Severe Thunderstorm Warning from Storm Shield if you or your saved locations fall inside the orange polygon.
In the example below, if your location is just outside the polygon (even though you may be in the storm and the county), you would not receive a warning from Storm Shield.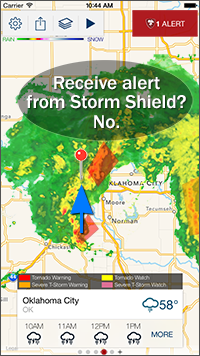 Question: I think I'm not getting alerts. What do I do?
ANSWER: You must open Storm Shield at least once after it's installed. You must set up Storm Shield before you will receive any alerts.
Current Location
You will only receive alerts for your Current Location if location tracking is enabled. To enable this feature tap Settings in the sidebar, then tap Background Tracking, then set Location Tracking to ON.
Other Locations
Save up to five additional locations to receive alerts. Under Extras, tap Settings, then Locations, and add your chosen locations. Location Tracking (or GPS) is not needed for these locations.
Battery Tip!
To help conserve your battery, you can turn off Location Tracking and instead set one of your five locations to where you are most often. You can also throttle up or down Storm Shield's Location Tracking to balance location accuracy and battery life.
Check Your Alert Settings
In the sidebar, tap Settings, tap Alerts, and review the alerts currently selected. From here, you can specify the types of alerts you receive by turning them on or off.
Other Services
Most other alerting services are county-based and cause you to receive alerts that do not actually affect you. If you are alerted from another service but do not get an alert from Storm Shield, please check the alert type overlay on the interactive map in order to see if your location is actually affected.
Devices Without GPS or Cell Service
If you are using a device that doesn't include a GPS or a cellular connection, it's ability to determine your current location is limited. Examples include all current iPod touch models and some iPad models. Those devices rely on WiFi signals to determine your location.
What Constitutes a Severe Thunderstorm?
The National Weather Service has criteria that must be met to issue a severe weather alert. As an example, for a thunderstorm to be considered severe, it must contain hail of 1 inch or greater and/or winds of 58 miles per hour or greater.
These are thresholds the NWS defines when storms start causing structural damage and are a substantial threat to people. So it's possible to experience small hail and strong winds and not be under a thunderstorm warning.
What does this mean for Storm Shield users?
If your current or saved locations fall outside these thresholds -- even though you may be in what appears to be severe weather -- you would not receive an alert from Storm Shield, because Storm Shield adheres to the same NWS standards.
Severe Weather Alerts vs. "Text Alerts"
Severe Weather Alerts: Storm Shield's automated alerts triggered by the National Weather Service appear next to your Current or Saved Locations under the top Locations section. This example has one alert:
Text Alerts: If you live in a Scripps TV or newspaper market and your Storm Shield has been localized to that market, you'll see an item called "Text Alerts" under a section named with your local TV or newspaper.
These alerts are sent by weather teams from Scripps newsrooms. An example might be local evacuation info from your Scripps TV station or newspaper related to a severe weather alert. Text Alerts can be turned on or off by going to Extras, then Settings, then Alerts, and tapping on Text Alerts (or "7NEWS Text Alerts", as in the following example).
More Tips and Help
For more tips and FAQs, in Storm Shield tap Support, then Help, then Frequently Asked Questions

Do you have further questions about how storm-based alerts work, or are you not receiving alerts when you think you should? Contact us. Under Extras, tap on Support, then Contact, then Email to send us a note.



Copyright (c) 2013 The E.W. Scripps Company